Abstract
Long-term care is a very important issue that requires serious policy attention in the United States, even though this has not been the case. It matters in the lives of millions of Americans and has direct impact on spending by public programs. Notably, LTC faces a host of challenges ranging from financial needs to administration controversies. This research paper explores the issue of long-term care in the United States by advocating for policy change in order to realize sustainable benefits in the country.
Introduction
Long-term care principally refers to a wide range of services, which allow people with disabilities or chronic infections to be taken care of. Long-term care is important because it helps in meeting personal or health needs with a lot of ease (Feder, Komisar & Niefeld, 2000). As mentioned above, LTC focuses on support services, which are essential for people in need. Importantly, one can get LTC from nursing homes or from family members and friends. Of importance is the fact that any person may need long-term care at any moment in life. It is therefore imperative for the program to be streamlined in order to address its challenges.
Long-term care
According to recent surveys carried in the United States, over twelve million Americans need long-term care. This representation consists of 50% of those citizens who are above and below the age of sixty five years old. Importantly, about 30% of these people who are in need have substantive needs, which have to be met (Feder, Komisar & Niefeld, 2000). With this beckoning task, it is equally essential to acknowledge the role played by the federal government through the Medicare program, which offers financial support for most elderly Americans and some young people that are disabled. However, long-term care needs for these people does not fall within the operating scope of Medicare. As a result, friends and family members are burdened with providing long-term care for those in need, posing a series of challenges. As a result, Americans are left with Medicaid program, which is a federal and state support-initiative that insures low income earners in the country. This is seen as the only safety net for citizens who are in need of long-term care in the country (Feder, Komisar & Niefeld, 2000).
In spite of the improvements, which have been witnessed in recent years, long- term care program continues to face a host of challenges, which have to be addressed for its effectiveness. For example, people who are I need of this type of care hardly find the required care (Feder, Komisar & Niefeld, 2000). Additionally, most families encounter difficulties in providing long-term care to their family members who may be in need. Accordingly, adults with long-term care needs are exposed to an array of challenges, some of which being fatal.
Due to the complexity of this issue, policymakers have been seen struggling with a general dissatisfaction with the quality, scope, mix and funding of long-term care needs. Importantly, there exists a wide variation in terms of how these programs are funded and supervised in different states around the country, a matter that makes issues surrounding long-term care program to be more complex (Feder, Komisar & Niefeld, 2000). Although there has been an increase in home care services in the United States, the service system is mainly dominated with nursing homes, as wrangles between the federal and state governments continue over their respective financial responsibilities.
In the understanding of the needs of the log-term care program, it is essential to underscore the impact of changing demographic patterns in the country. According to the current research findings, the demand for long-term care services will be more than double the current percentage in the next thirty years (Feder, Komisar & Niefeld, 2000). As a result, there will be need for assuring the quality of services provided, balancing between institutional and noninstitutional care, incorporating severe and long-term care and adoption of financing mechanisms, which are sustainable in protecting people with long-term care needs. Coupled with social security and Medicare, this improvement of the long term care will constantly redefine the quality of life for aging Americans.
Long-term care program funding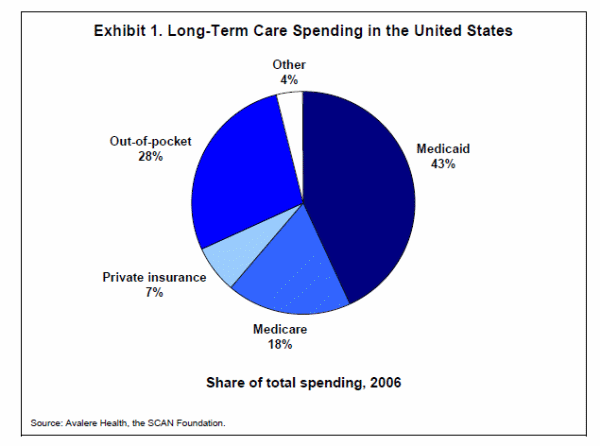 The figure above illustrates how the long-term care program is funded in the United States.
Experiences from abroad
In supporting the improvement of long-term care services in the United States, it is important to appreciate the fact that there are several countries around the world, which have adopted the idea and made several strides ahead in their healthcare systems. Most of these nations are industrialized and have stable economies. They include but not limited to Germany, France, Luxembourg, Korea, Norway, Japan and Netherlands. These countries have significantly restructured their healthcare systems to meet their respective needs. In a 2010 survey by Howard Gleckman, it was found out that the United Kingdom had not implemented the program even though it had given it consideration (Gleckman, 2010).
Notably, most of the countries, which have adopted this program, face more demographic challenges than those experienced by the United States. For instance, about 12.4% of American population was above the age of sixty five years old compared to 17.4% in Japan, 14% in Netherlands, 16.4% in Germany and 15.9 in the United Kingdom (Gleckman, 2010). With these trends, it has been estimated that about 20.4 % of the American population will be sixty-five years and above in 2040, compared to 35% in Japan. The graph below summarizes the projections.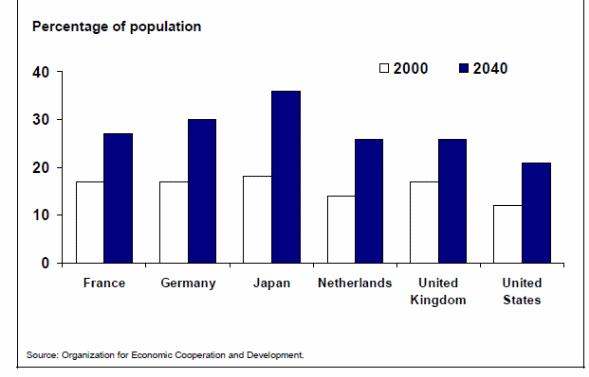 Additionally, the achievements of these nations in developing their long-term care systems are based on their streamlined public health insurance programs. As a result, those people who are faced with chronic health complications usually receive medical treatment and long-term care simultaneously. In this line of thought, it can be argued that countries with well developed health insurance systems can easily develop realistic systems to finance long-term care. This contrasts the situation in the United States, where chronically ill people receive acute treatment benefits from Medicare, Medigap and employer-sponsored retiree systems.
Moreover, the long-term care systems developed by Japan and other European countries are distinct from that adopted by the United States. In addition, these programs differ from one another, making them distinct. Together with other countries, Germany has adopted a universal long-term care social insurance, which is mainly financed through taxes deducted using payroll entries (Gleckman, 2010). On the other hand, Japan funds its public insurance through taxes and premiums, and it is available to all citizens regardless of their income level. Nevertheless, it is important to note that the benefits for these programs are targeted to those people who have attained the age of sixty-five years old.
As mentioned above, Netherlands is among the countries, which have a long-term care system. Unlike other countries, Netherlands funds its insurance with a combination of several taxes, even though most of the benefits are channeled to the entire population (Family Caregiver Alliance, 2012). This is different from France's program, which is funded by general revenues, even though the benefits are directed to the public, irrespective of their financial status. However, it is vital to clarify that those people with high-paying jobs usually receive smaller fractions of the support to allow effective support for the poor people. It is believed that the United Kingdom's long-term care system is similar to the American one, where people who are above the age of sixty-five years enjoy means-tested benefits, which are financed through public revenues (Gleckman, 2010).
When comparing the long-term care services in different countries, it is evident that there are complex and flexible benefits. For instance, Japan specializes in supporting its people with services alone. On the other, senior citizens in France are usually given the support in form of money and are left to make their sober decisions in acquiring relevant services. With Germany, U.K. and Netherlands, the countries accept cash and services. Importantly, most countries' long-term care systems augment home care than institutionalization (Gleckman, 2010). Furthermore, private long-term care insurance is commonly available in the United States with close to seven million people. This coverage is also available in Germany, even though it is highly preferred by those who have high monthly salaries.
Who needs long-term care?
Although the need for long-term care arises with advancement in age, it is important to emphasize that there are 5.6 million Americans who are in need of long-term care yet they are below the assumed age of sixty five years old (National Clearinghouse, 2012). Other researchers have found out that people who are need long-term care usually hail from low income families, very old, living alone or away from their spouses for married couples. These people further incur higher costs in cases where they are faced with severe care services. This is mainly supported by Medicare or personally funded.
Because of Medicare, most elderly people have their health insured. As noted above, people with disabilities are recognized by Medicare even when they are below the age of sixty-five years. However, they must be beneficiaries of the Social Security. On the other hand, only 33% of people between eighteen and sixty four, with long-term care have Medicare insurance. Importantly, 10% of Americans within this age bracket have access to health insurance (National Clearinghouse, 2012).
Long-term care financing
It is doubtless that majority of people who are in need of long-term care mainly depend on unpaid help, which is given by family members and friends. Despite this phenomenon, the substantive cost of long-term care cannot be ignored.
Medicare and Medicaid
Whilst it might be assumed that Medicare covers long-term care, the truth of the matter is that the support in minor, through skilled nursing facility and other home benefits, which cannot cover long-term care for the American population (Medicare, 2012). As a result of these limitations, skilled nursing facility and home care funded by Medicare is mainly short-term rehabilitative support, linked to a hospital stay or outpatient procedure. In general, Medicare offers SNF care for one hundred days, when the patient has been in hospital for at least three days. In cases where homebound individuals are in need of extra services, Medicare usually pays for healthcare needs, which may include personal care support services (Medicare, 2012).
On the other hand, Medicaid offers its healthcare services to two categories of people in the United States. The first one constitutes of people who are considered to have low incomes. In other words their income cannot allow them to pay for their medical needs. Secondly, the plan recognizes those people who become poor as a result of overspending their resources and income on long-term care. According to federal rules, an elderly person is entitled to Medicaid if his or her assets and income are too low to grant them Supplementary Cash Assistance (National Clearinghouse, 2012).
Out-of-pocket spending
In formulating a policy that addresses the needs of people, it is important to understand the existing challenge in meeting long-term care costs. From the American financing structure, more than a quarter of the long-term care costs are usually met by individual patients. From this structure, it is clear that it lacks an insurance system that addresses the cost of long-term care holistically. Instead, the system recognizes people when they are poor to the extent of not being able to pay for the cost (Feder, Komisar & Niefeld, 2000). Given the cost of long-term care cost, it is clear that people seeking these services are exposed to an extreme financial burden.
In fact, out-of-pocket expenses can described as a section of the burden felt by families, when looking for long-term care services. As a result of a wide range of difficulties experienced, many caregivers are forced to adjust their schedules, work fewer hours or retire early to escape frustrations. Additionally, up to15% percent of caregivers experience mental problems resulting from their care-giving profession. This demonstrates the need for improving the long-term care system to serve Americans effectively without exposing caregivers to unfair conditions (Feder, Komisar & Niefeld, 2000).
Current trends
According to Genworth survey, there are emerging trends with regard to long-term care services in the United States today. In a recently concluded survey, it was noted that the cost of long-term care services has steadily increased for the last five years. For instance, the cost of a nursing room was $65,700 in 2007 compared to annual median rates of $81,030 in 2012 (Cost of Care Survey, 2012). From this increase, it is obvious that Americans have to be ready to pay over $15,000 more per year for nursing home charges than they paid for the same services, five years ago. Compounded annually, the increase represents a 4.28% growth rate over a period of five years (Cost of Care Survey, 2012).
Contrary to this increase, which has been observed in the last five years, home care services have relatively remained constant throughout the same period of time. For example, the cost per hour for a private home health aide was $18 in 2007 and $19 in 2012. This translates into a historical annual growth rate of 1.09% in a period of five years. According to Genworth, the stability in the cost of home care can be attributed to increased competition among various agencies, together with availability of unskilled labor (Cost of Care Survey, 2012).
Recent initiatives
Based on the performance of developed countries, it is evident that a good number of them have advanced in developing long-term care programs for their citizens. On the other side, America has solely concentrated on promoting private insurance as a way of reforming long-term care. These efforts include the expansion of state and federal incentives and thorough marketing campaigns aimed at wooing customers to consider private coverage (Gleckman, 2010). Additionally, more benefits were introduced by Medicaid especially for consumers purchasing private long-term care insurance. Despite the fact that these initiatives have swayed the interests of some customers, they have not been a source of substantial change in the nature of the coverage. The following segments enumerate some of these efforts witnessed in recent years.
Tax subsidies
States and the federal government agreed to lower taxes imposed on long-term care insurance. However, the amount of tax subsidy allowed by the federal government is determined by an individual's age. For instance, by the year 2009, a person between the age of 60 and 70 could pay up to $3,180 less. However, this benefit is limited to the overall medical cost, which has to be at least 7.5% of the altered gross income. In addition, the benefits realized through private policies do not attract any form of tax (National Clearinghouse, 2012).
Partnership Act
The Partnership Act was introduced in 1980s and expanded in 2005 to address the changing needs in the healthcare industry. Nevertheless, the program has limitations, which guide the authorization of related benefits (Family Caregiver Alliance, 2012). For instance, one can only qualify for Medicaid long-term care benefits after $2000 of his or her assets have been spent down on medication. Additionally, buyers of an approved policy can become eligible if there is an equivalent value of assets retained, which is corresponding to the cost of the insurance policy. By the year 2007, twenty three states had implemented the partnership policy even though early evidence indicated that the plan was not likely to cause a major drop in Medicaid expenditure. Additionally, the government expenditure is likely to increase because of the implications of the policy on buyers (Gleckman, 2010).
Marketing
As mentioned before, the federal government embarked on a massive marketing campaign to convince more citizens to purchase private policies for their medical insurance. In 2001, federal retirees had access to private insurance policies. Moreover, they were subject to payment of all premiums like other enrollees applying for the same. Although there was no employer subsidy for the policy, it had more several benefits than many other private policies that were being offered. Similarly, the U.S. Department of Health and Human Services launched a campaign in 2005, encouraging people to secure their future by acquiring long-term care insurance. Several strategies were initiated, including sending of mails to people between the age of 40 and 70, and development of state websites (Gleckman, 2010). Due to these initiatives, up to eighteen states had joined the campaign by April 2008. Unfortunately, current research indicates that there is almost no evidence to support the success of the initiatives.
In a 2009 survey, it was discovered that only seven million Americans owned long-term care insurance policies. Based on the efforts, which had been shown by states and the federal government, it can be argued that the progress was not appealing. This was attributed to a wide range of reasons. For instance, some of the buyers who were not willing to go for the policies argued that there was no correlation between the high cost of the policies and the value of the services offered (Gleckman, 2010). Additionally, some assumed that the government had already paid the costs, making them give up on the idea. Lastly, most Americans are unwilling to invest in long-term care needs, which may surface several years to come.
Policy improvement
Given the limited success realized from private long-term care initiatives, there are several reform strategies, which have been suggested to address the issue. These proposals have been discussed below:
Improving the home care/nursing home balance
It can be argued that the continued support for nursing homes over home care is a sign of laxity in supporting home care as a compliment, rather than a replacement as seen by some people. It is true that home care can replace nursing home care. However, overall improvement of home care is likely to increase the number of people who can access healthcare. In other words, those people who would not be free to go for home care can opt to visit nursing homes instead of failing to receive required treatment (Family Caregiver Alliance, 2012).
Quality assurance
From research carried out, it has been found out that there are several deficiencies, existing in nursing homes despite reforms that were approved to enhance proper regulation. This is mainly attributed to lack of enough attention to and for support of state and federal directives and activities. Although the government has stepped up its activities, there is still concern by the public over the quality of home care given to patients. To improve this, nursing home payment is essential in enhancing the standards of the services offered. The government should fully recognize nursing homes through an agreement on payment terms (Shi & Singh, 2012).
Nevertheless, it has to be noted that maintaining home care faces a chain of challenges, which make it hard to attain certain standards of quality. These include but not limited to lack of information, varying care site and vulnerability of individuals. To realize this, several options can be considered, say, supportive housing arrangements and acquisition of assisted-living facilities for patients.
Integration of acute and long-term care
Under the current program, people find it hard to coordinate several services across other programs. This is common with Medicare and Medicaid, which offer acute medical care and finance long-term care respectively (Shi & Singh, 2012). Proper integration would not only improve the quality of services offered but also promote efficiency of care. Medicare has enhanced the development of managed care arrangements, which have recently been considered as provider options. Integration of Medicaid and Medicare is therefore an arrangement between states and the federal government. Capitation would offer several advantages to the state. For example, the state would be able to limit the liabilities for service. Additionally, the state government would be able to control dollars, which are currently regulated by the federal government. Pursuit of these advantages would guarantee innumerable benefits for the care program (Feder, Komisar & Niefeld, 2000).
Insurance expansion for long-term care
From the analysis of the healthcare system and the economics involved, it is evident that there is room for the government to fund long-term care, similar to the manner in which acute care is financed. As a result, the insurance should be given chance to expand its risks. This is based on the fact that it is unpredictable that a person will need long-term care in his or her entire lifetime (Feder, Komisar & Niefeld, 2000).
Due to increased costs, which are not predictable, insurances would offer a more realistic solution than maximizing on personal savings. This has to be double-emphasized since the current long-term care system lacks insurance cover concerning long-term care costs. It has also been argued that subsidies through taxation can boost the private market to cover long-term care costs, to reach more people around the world and reduce the burden felt by the public sector. Notably, private insurance coverage is likely to grow and cover up to 30% of nursing costs by the year 2030, ten times its current coverage (Shi & Singh, 2012).
Through such an expansion of insurance, it would be possible to address adequacy of protection. This is because of the existence of inadequacies, which include market practices that become responsible for the unavailability of policies. Another inadequacy is the existence of minor benefits, which only cover a section of the costs of care, without the guarantee of keeping pace, with rising costs. Lastly, there is always the likelihood of unanticipated premium increases. These features act as barriers to the spreading of insurance risks (Shi & Singh, 2012).
Conclusion
From the above analysis, it is clear that long-term care is a very essential component of the American healthcare system. Through this, several programs have been initiated to promote accessibility to medical care. In this regard, Medicare and Medicaid remain significant in improving America's care system. However, the long-term care system has been hindered by several factors, which have to be eliminated through the policy improvement strategies discussed to allow efficacy of the program.
References
Cost of Care Survey. Genworth 2012 Cost of Care Survey. Genworth. Web.
Family Caregiver Alliance. (2012). Selected Long-Term Care Statistics. Caregiver Alliance. Web.
Feder, J., Komisar, L., & Niefeld, M. (2000). Long-term care in the United States: an overview. Health Affairs, 19 (3), 40-56.
Gleckman, H. (2010). Long-term care financing reform: Lessons from the U.S. And abroad. The Commonwealth Fund. Web.
Medicare. (2012). Long-Term Care. Medicare. Web.
National Clearinghouse. (2012). Long-Term Care Information. Department of Health and Human Services. Web.
Shi, L. & Singh, D. A. (2012). Delivering Health Care in America: A Systems Approach. Burlington, MA: Jones & Bartlett Learning.