Introduction
Healthcare is a medical term which refers to all activities and services involving human health, such as the diagnosis, treatment, as well as prevention of illness, disease, injury, and other mental and physical impairments in humans. Health care is delivered or administered by practitioners in various medical professions such as nursing, allied health, chiropractic, medicine, dentistry, among other care providers. There are numerous organizations or health settings under which health care is provided and some of these include Acute-care hospitals, Behavioral health centers, Out-patient Centers, Specialty hospitals, Surgery centers, and Long-term-care facilities. Just like any other profession in life, health care administration in these organizations is governed by certain legal aspects or ethical code of conduct. In a health care setting, ethical code of conduct refers to those procedures or practices that ought to be followed in specific ethical situations involving health care administration in any of the above health organizations. In this case, the code provides guidance about profession behavior that is expected of all health care workers as they work and interact with fellow staff and patients within the various health settings. This paper examines the expected code of conduct for those in governance, management, and professional staff for an inpatient rehabilitation facility.
Brief background of the organization/setting
Inpatient rehabilitation facilities are healthcare settings found under long-term-care facilities. These types of facilities provides restorative, rehabilitative, and/or continuous skilled health nursing care to patients or other people who would be requiring assistance with daily life activities. The main role of these kinds of facilities is to offer services that are specialized, to patients or persons having one or more functional deficits. An inpatient rehabilitation facility can be a hospital-based unit or a freestanding facility that offers intensive inpatient rehabilitation services, such as occupational, physical, and/or speech therapy to patients who need further medical attention after an injury, illness, or surgical care (Anderson, 2003). Other long-term care facilities include nursing care homes, long-term chronic care hospitals, and inpatient behavioral health facilities.
Organizational structure
The following diagram shows a typical organizational structure for an inpatient rehabilitation facility (IRS)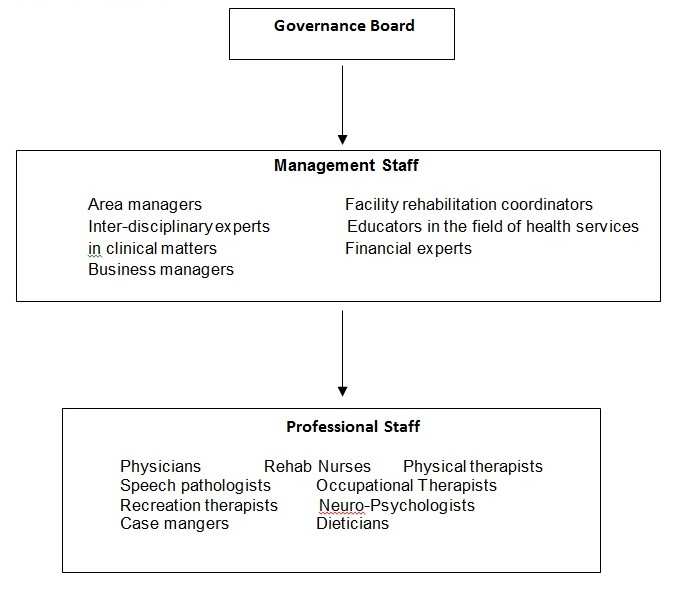 Management staff at inpatient rehabilitation facilities
The management staff at inpatient rehabilitation facilities comprises of the area managers, Facility rehabilitation coordinators, experienced inter-disciplinary experts in clinical matters, educators in the field of health services, physician advisors, business managers, financial experts and innovators of program enhancement and development to assist in the overall running of the facilities.
Duties/responsibilities
The main responsibility of the management staff is to take care of the most crucial aspects within the overall management of the facilities. However, each one of these segments has a specific duty to play in the IRFs as follows:
Area managers
Rehabilitation area mangers are responsible for a number of duties in the units. Some of these duties include provision of appropriate modeling, mentoring, training, counseling, or support to guide and direct service staff regarding appropriate work skills, work attitudes, and specific patient service deliveries in assigned program sectors. It is also the duty of area managers to communicate individual program changes as well as routines to appropriate individuals in the IRFs.
Facility rehabilitation coordinators
In patient rehabilitation coordinators are qualified medical personnel whose main responsibility is to oversee therapy sessions, medical care and concern on patients, as well as rehabilitation training for those patients having serious mental and physical conditions. In other words, it is the duty of RCs to oversee a number of interventions to patients' self-improvement. It is also the duty of RCs to manage finances in an IRF.
Inter-disciplinary experts in clinical matters
Inter-disciplinary experts in clinical matters, just as their title suggests, can handle a variety of tasks in all clinical matters within the facilities (Lubinski, 2006). Together with the educators in the health services, experienced inter-disciplinary experts also do provide informed guidance to the professional staff on how to go about their work within the facilities.
Educators in the field of health services
Staffs under this discipline have the responsibility of educating the clinical staff and other professionals on critical health matters in IRFs.
Physician advisors
This team is always available in IRFs to consult with attending doctors/physicians and the other medical staff on certain aspects associated with patients' stay in the facilities. It is also the work of the physician advisors in IRFs to evaluate and verify patients' medical records to ensure that they reflect the intensity of all the services provided to them. This credibility documentation is significant in ensuring that the facilities receive the appropriate documentation.
Business managers and financial experts
The teams in both the Business managers and financial managers are responsible for handling the facilities' business and financial matters, respectively.
Professional staff at inpatient rehabilitation facilities
The professional staff within IRFs comprises of numerous categories of personnel who are qualified in a number of health care specialties. According to Horan (2008), the professional staff in this particular setting assists patients in meeting their goals in life, through various interventions. They also offer comprehensive consultative, evaluative and rehabilitative services to patients or residents in rehabilitation facilities. Some of these professionals include medical doctors or physicians, rehabilitation nurses, physical therapists, speech pathologists, occupational therapists, recreation therapists, neuro-Psychologists, case managers, and dieticians, among others.
Duties/responsibilities
These professionals team up to guarantee the best rehabilitative services to patients and residents. However, each of these professionals plays a different responsibility in the care of patients. The following is a summary of each of these professionals and the different roles they play on patients and/or residents within an inpatient rehabilitation facility.
Medical doctors/physicians
The role of physicians serving at inpatient rehabilitation facilities is to provide medical management on patients and oversee the care of patients, as it is administered by other professionals.
Rehabilitation nurses
Just like the nurses in other health settings, nurses serving at rehabilitation facilities are expected to monitor the medical needs and progress of patients. These nurses have specific experience in rehabilitation matters and would work with patients and their support parties in identifying the problems facing the patients.
Physical therapists
These are qualified professionals whose main responsibility is to assist patients regain and develop coordination, endurance, and physical strength. Physical therapists normally work with the patients on a daily basis to ensure that they become a bit more independent with walking, wheel chair mobility, and bed mobility, among other functional skills that the patients require.
Speech pathologists
Speech-language pathologists have the responsibility of offering comprehensive, diagnostic treatment and evaluation services on those patients and residents having communication disorders. These professionals play a key role in helping patients regain or develop skills in various areas of communication, reasoning, and thinking.
Occupational therapists
Practitioners of occupational therapist helps patients and residents in rehabilitation units to coordinate their mental and physical abilities with daily life activities such as eating, bathing, dressing, and cooking, among other routine activities. It is also in the duty of occupational therapists to train new strategies to patients in order for them to be more independent in life.
Recreation therapists
This group of health care professionals works with patients in addressing various issues concerning quality of life. In that case, they try to help patients get attached to the life activities they enjoy most. Recreation therapists play a significant role in assisting patients to successfully go back to those activities that makes them happy in life.
Neuro-Psychologists
Neuro-psychologists are the people who assist patients in coping with medical and cognitive issues in the rehabilitation (Lichtenberg and Smith, 1998). Neuro-psychologists also provide counseling to the families of patients, in an attempt to facilitate all the necessary role and communication changes that are likely to accompany disability or illness.
Case managers
Case managers serve as patients' liaison with the other rehabilitation team, their families and other significant parties who may be involved in the patients' health care process. Case managers also have the responsibility of putting in arrangement most services recommended for the patients in the rehabilitation. It is also the duty of case managers to identify the community services and resources that are likely to assist patients with their transition home.
Dieticians
Patients' nutrition habits are likely to play a significant role in their healing process. The main responsibility of a dietitian in an inpatient rehabilitation facility is to evaluate the nutritional needs of patients and to ensure that they follow the right diet in the course of their stay at the rehabilitation.
Ethical dilemmas in IRFs
In most cases, professionals working at IRFs are bound to find themselves trapped in complex situations involving apparent mental conflicts between moral imperatives and what they are compelled to do in some cases in the course of their work. Sometimes, these complexities can't be ignored by professional staffs, especially when it involves a directive from senior personnel in their facility. Ethical dilemmas are common within health care organizations, where health professionals are regularly faced with challenges in deciding on what is the morally right step to take in some confusing cases of their responsibilities on patients and clients (Proctor, 1993).
A good example of a possible ethical dilemma which may be encountered by the staff in IRFs is where a professional staff is bribed by family members of a patient so that they can extend emphasized care and concern to that particular patient. Another possible ethical dilemma which is likely to arise in such settings is a scenario whereby a high-profile attendant within the organization delegates a professional staff to attend to a duty which is completely different from the one they are qualified on. This could result to serious medical errors on patients and residents who may be unaware of a mistaken delegation upon them. Ethical dilemmas in IRPs are likely to interfere with transparency and fair working conditions in those settings. In some cases, these ethical dilemmas could also result to poor medical concern and attention, thus posing health risks on patients and residents.
Ethical standards for those in governance, management, and professional staff
Ethical standards refers to a set of guidelines or principles which must be followed by each worker in their place of work for purpose of promoting desirable values such as accountability, behavior, value, kindness and/or fairness in work. There is no consistent set of guidelines or standards that all organizations should adhere to, but each business or department within a particular sector would have the right to establish standards befitting their organization (Lewis, 2011). As it would be observed, the responsibilities of health care management in any organization are fraught with numerous urgent ethical problems and questions. The ethical standards in an IRF are not so different from those in other organizations of health care. However, there are slight differences in relevant to their organizational structures, which constitute of different medical, clinical and rehabilitative professionals. However, no matter the differences that may exists between the various institutions of healthcare, one thing is common; all health care staff must always ensure that their activities and behaviors match with the code of conduct observed in their work setting. This part observes the ethical standards of those in governance, management, and professional staff in an inpatient rehabilitation facility.
Governance board
The health care governance is mandated to offer informational and educational services to the management staff. In this regard, the governance institute should always ensure that it equips its members with relevant and accurate information regarding their duties. Other ethical standards attached to the governance are as follows:
In an IRF, the governance board is ultimately responsible or accountable for the quality of treatment, care, and services administered to patients and/or residents in an IRF.
The governing body should always try to work along other high-profile segments of the IRFs, to evaluate the organizations' performance in accordance to its vision, mission and objectives.
It is also the duty of the governing body to provide a reliable basis for resolving problems and issues among relevant categories of staff serving in the facility. In this case, the body should see that it expresses fairness and equality when dealing with various segments of the organization.
More importantly, it is the duty of this body to oversee that all the resources required in maintaining quality, safe care, services, and treatment are provided for as required.
Management staff
The position of the IRFs management staff is very sensitive. In that case, the personnel in this position are always faced with a big responsibility of managing all the other segments of the facility. For instance, it is in the ethical standards of the management team in this setting to encourage and steer for initiatives from the professional staff, to try to implement and adhere to ethical guidelines in their responsibilities within the organization (Spivey, 1994). Other ethical standards aligned to the management team would constitute of the following:
It is in the management's good will and responsibility to ensure that all patients' documentations and records reflect truth and accuracy.
Ethics also observe that management should deal with all relevant organizations in the facility in a direct and a fair manner.
The management should always avoid taking any actions that are likely to mislead other medical staff, especially the professional health workers.
The management is responsible in ensuring that information and data contained in hospital records remain accurate and are not falsified in any way.
The management team should always observe high levels of leadership integrity in a manner which identifies them as models to their subordinates.
Professional staff
In most cases, the professional staff would tend to have a closer and direct interaction with the patients in the centers more than anyone else within the setting. In this regard, their employment and workplace practices are governed by various ethical standards to see that they comply accordingly with the formalities of their special responsibilities on patients. The following is an outline of some of the key ethical standards that govern the work of the professional staff in an IRF setting.
It is the work of all professional staff to induce quality and proper care on patients in a fair manner. In this case, unethical practices such as discriminatory attitudes on patients are avoided.
The personnel in this sector should commit themselves in observing maximum confidentiality of patients' information which has been accorded to them in accordance with ethical standards in their health setting.
The professional staff in IRFs should not receive or entertain any form of inducement from the patients or their family members in exchange of special favors or special treatment of the patient.
The staff should also avoid making misleading information or statements to patients or even their colleagues at work.
Staffs should always respect and honor the privacy of their patients, colleagues and seniors in the workplace.
Staff should also respect patient's rights of quality care services.
Implementation and ensuring compliance of ethical code of conduct
The process of implementing a code of conduct in a health care organization is the same with any other department and it follows just the same process (Carmack, 2008). However, since the code of conduct for most healthcare organizations are almost the same and are liable for changes in an annual basis, there's absolutely no need to implement a new each time we think its necessary. What needs to be done here is just a simple guideline of how to ensure that the people in various organizations adhere to the principles set forth. Following is an outline of five simple steps that can guarantee strict compliance of the guidelines by the staff in an IRF setting.
Ongoing informational sessions on the principles to the staff
Regular communications
Establishment of reporting procedures on responses
Introduction of effective enforcement plans
Rewards on obedience and adherence
Consequences of violated code of ethics
Violation of ethical standards in a health care organization can bear serious repercussions. Individuals who fail adhere to principles set forth in any health care setting are subjects to serious consequences, the worst being suspension from work or suspended privileges from duty.
Conclusion
As observed in this report, health care practitioners must not rely on their professional skills only in dealing with health matters in various healthcare organizations. For effective and efficient administration of health care on patients, health practitioners should always sustain their professional skills and knowledge with the various principles set forth in respect with the positions they hold in their relevant organizations or settings. To emphasize the significance of strong ethical standards in health care, this paper has successfully examined the expected code of conduct for those in governance, management, and professional staff for a selected health care setting under long-term-care facilities. More importantly, this paper also establishes a more suitable process of how to go about with the implementation and ensuring compliance of principles set forth to govern the accountability of the staff in an IRF setting.
References
Anderson, J. (2003). Pastoral needs and support within an inpatient rehabilitation unit. Archives of physical medicine and rehabilitation, 74 (6),574.
Carmack, H. (2008). Narrative constructions of health care issues and policies. Journal of Medical Humanities, 29 (2), 89-109.
Horan, T. (2008). CDC/NHSN surveillance definition of health care-associated infection and criteria for specific types of infections in the acute care setting. American journal of infection control, 36 (5), 309.
Lewis, B. (2011). Narrative medicine and health care reform. Journal of Medical Humanities, 32 (1), 9-20.
Lichtenberg, P. and Smith, M. (1998). Standards for psychological services in long-term care facilities. The Gerontologist, 38 (1), 122.
Lubinski, R. (2006). Professionalism in long-term care settings. Journal of Communication Disorders, 39 (4), 292-300.
Proctor, E. (1993). Classification and correlates of ethical dilemmas in hospital social work. Social work, 23 (11), 34-37.
Spivey, B. (1994). The relation between hospital management and medical staff under a prospective-payment system. New England Journal of Medicine, 310 (15), 984- 986.