Leadership plays an essential role in shaping organizational progress in all sectors. In the healthcare industry, leadership quality influences service delivery, forming a vital part of social welfare and community sustainability. Currently, the healthcare sector suffers from a myriad of challenges, both within and outside its control. First, inadequate labor leads to overloading the available workers, limiting the quality of health services provided to clients. Second, external factors such as changing demographic trends, economic implications and globalization impose additional restrictions on healthcare organizations. In the midst of these difficulties, leadership is as a crucial element that can enable private and public organizations to rise above current issues and remain highly relevant in society. Transactional and transformational leadership styles are the two most common methods through which healthcare institutions implement their set strategies. Although each of these methods find their application in different situations, they have their merits and demerits. While transactional leaders apply rewards and punishments for motivation, transformational leaders serve as change agents by influencing others through their good conduct. The transformational leadership style is more preferable in healthcare organizations since employees can easily adapt to the rapidly changing environment, motivated by the desire for excellent service rather than rewards.
Leadership Theories in the Healthcare Sector
Healthcare forms a central part of social welfare and community sustainability. Concerning leadership, many theories have been developed to underscore the connection between organizational management and corporate success. Focusing on the transformational and transactional leadership theories, the past, current, and future healthcare conditions are evaluated, providing a better understanding of how each theory applies in different circumstances. While both leadership theories have unique merits and drawbacks, the best style is one that enables optimum resource utilization without sacrificing the leader's freedom or limiting their level of influence.
The Current Conditions of the Healthcare Sector
The healthcare environment is complex and changing, with challenges that are specific to it and other common limitations affecting other industries. These issues include internal conflicts associated with increasing demands for oversight and openness (Stuber et al., 2021). Other elements include the increasing implications of different parties with personal interests in the industry, including social and political factions, and shortages of medical professionals attributed to the impact of aging workforces. Factors beyond the healthcare setting, such as changing demographic trends, economic implications, globalization, government involvement, and developments within the healthcare sector and communication systems, all have a significant impact on the healthcare sector (Ahmed et al., 2017). The healthcare business is continually evolving as a consequence of the interplay of variables both within and outside its control.
The health industry can best be described as dynamic following the series of changes implemented in various sectors within the industry. It is getting more complicated, making it difficult for healthcare leaders to keep pace with modern technologies (Belrhiti et al., 2018). Patients are requesting rapid replies from a variety of channels, including patient networks, telemedicine, and social media, while mobile technology improves patient-doctor interaction (Ahmed et al., 2017). To assure compliance with HIPAA standards, big data is generating a surge in demand for specialist IT skills, putting pressure on human resource management practices and organizational structure. From a historical and socio-cultural perspective, the quality of leadership present in an organization affects service delivery, informing various aspects of human wellbeing (Kraus et al., 2021). Therefore, an understanding of various leadership theories within the field is crucial to developing an effective policy change for improved performance.
Leadership Styles and Organizational Success
There is an immediate cause-and-effect relationship between organizational accomplishment and leadership. Leaders influence values, mindset, change sensitivity, and inspiration. They have a say on how organizational projects are executed and their efficiency according to set goals. Leaders appear at all levels of management, not only at the top. Ahmed et al. (2017) comment that successful leaders have a common feature-they significantly influence others within their environment to benefit from the workforce, which forms its most valuable asset. The organizational leadership and management teams have direct implications on all aspects from client experience to effectively implementing defined missions, encompassing resource allocation, customer service, and organizational development initiatives.
In actuality, a leader's capacity to rally the workforce behind a shared goal can have a significant influence on the public library members, materials, as well as how clients use or engage with such, including whether the encounter is beneficial. Considering the significance of administration in the achievement of business activities, Stuber et al. (2021) believe that it is worth considering the various types of managers and their possible implications on good governance. Current leadership frameworks categorize leaders into groups depending on their personal characteristics or their use of power and control to achieve the desired outcomes.
When categorization is based on personality features, executives can be grouped into authoritarian, democratic, bureaucratic, or inspirational. Depending on how power is transferred and used to gain sustainable competitive advantage, managers can be situational, transformative, or transactional. Recognizing the various tenets aids in the formulation of a shared language for communication, which can result in useful and optimal solutions (Stuber et al., 2021). It's vital to realize that leaders are not created equal, and transformational planning may differ substantially across sectors, sometimes within the same organization. Determining an individual's leadership style is crucial for assessing management performance and reliability, especially in connection to company strategies.
While one leadership style may be considered superior to others, some level of compromise should be observed. Vuong et al. (2021) report that the level of job satisfaction derived by employees from their various occupations determines their royalty and eventually shapes organizational success. Based on the employee-leader connection and the output levels, the democratic leadership style performs best. Most organizations (over forty percent) consider the democratic leadership style (Mihai et al., 2017). Each worker has a fair say in the direction of a project, even if management makes the final decision. According to Caillier (2020), democratic leadership is among the best performing forms of governance since it allows junior personnel to take up roles that shape them for future undertakings. As shown in fig. 1 below, democratic leadership has become increasingly popular and influential in corporate maturity, as indicated in fig. 2 (Mihai et al., 2017). Therefore, many organizations apply the democratic style, leading to high growth rates.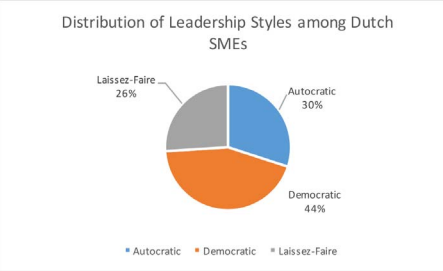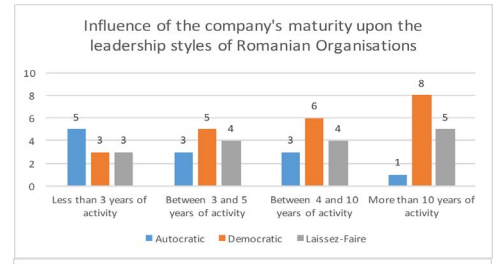 Transformational and Transactional Leadership in Healthcare Institutions
Organizations are founded for different purposes, implying that their modes of operation should be guided by their mission and focus. As an organization grows, several challenges may appear, which can be navigated by shifting the leadership styles to reflect the specific times and expected results. The transformational and transactional leadership techniques are distinguished by their driving forces. A transformational leader is moved by the need to achieve higher performance through employees' motivation. On the contrary, transactional leaders believe in rewards and punishment as the methods by which they can drive organizational processes.
Transformational Leadership Applicable Contexts
The business environment can be described as dynamic, with rapid changes experienced in the past few decades. Some unprecedented events such as pandemics cause sudden shifts in operations, leading to employee demotivation and negatively impacting morale. According to Hansbrough and Schyns (2018), transformational leadership motivates people to look forward, focus on the common benefits, and operate in oneness with a common goal in mind at its primary level.
As a result, meaningful change cannot occur until a leader has fulfilled the preceding duties mentioned above. A good illustration of transformational leadership can be found in Steve Jobs during his early years at Apple. He led by example using the transformational style, showing how motivation was essential for organizational development. Asbari (2020) asserts that the transformational style is applicable in corporations where a new product has been undertaken that requires employee expertise. In addition, individuals working from home, such as was seen during the COVID-19 pandemic, are more likely to lose their morale, which would significantly hamper their productivity. In such a scenario, the transformational style is vital to keep the workers connected and maintain their focus on the organization's vision. Within the healthcare sector, transformational leadership may be applied in new facilities, and clinical settings wherein staff need to be motivated by their desire to make a difference in patients' lives. In addition, global epidemics may increase stress among nurses and other healthcare workers, calling for a transformative approach.
Transactional Leadership Applicable Contexts
The transactional leadership style is associated with Weber's theory of transactional management techniques. From Maslow's hierarchy of needs, the transactional theory is satisfied at the level of basic needs. Cherry (2020) underscores that transactional leadership, sometimes referred to as effective management, is preoccupied with a team's monitoring, administration, and achievement. Leaders who use this strategy concentrate on specific roles and obligations, and motivate their subjects with rewards and punishments. The first premise of the transactional leadership theory is that employees are primarily motivated by the rewards they get for their labor (Betz, 2021). In many cases, leaders motivate employees to improve their performance through bonuses, salary increments, and non-monetary returns such as paid holidays and workshops. The second assumption is that a definitive chain of command increases employee adherence to organizational standards, motivating them to perform better.
Concerning the contexts of application, transactional management is best applied in settings that focus on the returns rather than the processes. These include businesses whose main goal is increasing shareholder revenue without concentrating on workers' sociological and emotional wellbeing (Strömgren et al., 2017). A good example would be a start-up that wants to dominate the market through the production and distribution of healthcare essentials or a private hospital that seeks to rise above competitors within the sector. In this scenario, employers may be offered an allowance or bonuses for extra customers served. According to the transactional theory, employees work best by following commands given without raising concerns over opinions (Betz, 2021). From this theoretical approach, transactional leadership is best suited in contexts that require rigid procedures.
Benefits of Transformational Leadership
Transformational leaders are characterized by the capacity to swiftly evaluate a company's current situation and generate a clear vision for its future growth and improvement. The leader communicates her vision to her team with zeal and conviction, guaranteeing that everyone is involved. Concerning immediate outcomes, the organization should see an improvement in productivity anytime a transformative leader joins the workforce (Thibault et al., 2019). It becomes much simpler to enhance performance when all members are working in the same route since every individual can comprehend the idea and feel united in a common purpose.
Workers join and later leave organizations, and obtaining and training a new employee can be costly. Transformational leadership seeks to minimize the employee turnover rates by causing employees to feel more actively involved in the company. Associates who are unified behind the leadership's strong commitment, according to Giddens (2018), are more likely to feel connected, that they share mutual goals with colleagues, therefore instilling in them the belief that they are unified. People who make a good fit for the company's values and processes are more inclined to remain, lowering turnover.
Integrity is a critical trait for transformative managers: their entire zone of control is dependent on their being honest and publicly embracing the company's beliefs. As a consequence, a transformational leader will be highly focused on doing the right thing (Thibault et al., 2019). They are typically values-driven and ethics-focused, motivating members to remain on the proper path and perform to the greatest advantage of the firm and broader communities.
Among the most prevalent issues that companies face is low morale. It occurs when the workplace gets stagnant, employees are uncertain of their job functions or obligations, or there is a plethora of cross-functional and cross-conflict (Giddens, 2018). The absence of communication is most often the root of these challenges. Transformational change agents, naturally, are excellent communicators, which are critical for knowledge distribution (Strömgren et al., 2017). They must put out clear and unambiguous statements to organize people about their desired future through the vision created. When a company has a communication problem, a transformative official is routinely called in to effectively communicate the company's mission, reminding employees why they are doing what they are doing, and breaking workers out of current cycles for improved performance.
Cons of Transformative Leadership
It is one point to garner backing for a long-term goal, but another to translate that data into actionable insights at the local levels with well-defined operational strategies. Among transformational leadership's greatest shortcomings is that it is considerably more theoretical, lacking the operational focus that certain individuals require to steer them into their daily duties. Although transformational leaders loathe feeling overwhelmed by details, practical planning is required for every firm to achieve its goals (Milhem et al., 2019). Although some individuals perceive transformative leadership as a creative force, others view them as a significant source of pressure. To transformational leaders, genuineness – flourishing in the workplace culture and ideals – is critical (Milhem et al., 2019). As a result of the continual development to achieve the grand plan and to gain satisfaction in the firm's successes, some employees may become demotivated.
If a change takes place too often, it can be distracting, and it can still be destructive if the managers take severe or unjustified risks. A transformational leader is commonly hired by businesses with the goal of bringing about swift developments. The issue emerges, according to Milhem et al. (2019), whenever the leader's final aim is a shift in direction instead of something positive for the organization. Unfavorable outcomes are much more probable if the executive fails to honestly assess if such particular action is the best option at this time and for this firm.
Transactional Leadership's Benefits
People continue to work because there is a financial benefit for each of them to do that. Workers may be enthused about their work. They might enjoy working for a company that makes a positive difference in people's lives. Setting achievable goals in a unique or inventive atmosphere might be difficult. An objective will be achieved if it has a clear end date (Cherry, 2020). Transactional leaders create strategic endpoints as a component of their larger organizational design, allowing for more efficient operations.
Drawbacks of Transactional Leadership
Transactional managers center their focus on using some forms of rewards to motivate employees and increase their contentment levels. They do not include elements including a worker's relationship with their supervisor, which can have a significant impact on employee contentment and retention (Cherry, 2020). Employee retention relies mostly on the manager-employee relationship; it is estimated that 57 percent of people have quit a job because of their bosses (Betz, 2021). Furthermore, rather than of monetary rewards, some individuals are inspired by producing good work, supporting their customers, or creating a difference in the world. As a result, a remuneration approach could not serve as an incentive for these employees.
The Best Leadership Role
Table 1 below shows the clear-cut distinction between the two styles, indicating the various roles they play in facilitating organizational performance. Despite these differences, each leadership style proves to be more applicable in certain contexts than other employee management methods. From the transformational leadership theory, employee motivation is the key driver of performance (Milhem et al., 2019). As the healthcare environment changes, people may shift their focus from certain compensation methods, implying that only inner motivation will have the capacity to drive them forward. It is important to understand that the transactional theory falls short by ignoring emotional connections among the employees that determine their loyalty to their organizations. If employees are motivated by monetary benefits, their work may be superficial, not having a long-lasting impact on corporate value. Therefore, the transformational leadership style is the most appropriate in healthcare settings.
Table 1: Differences between transformational and transactional leaders
| | |
| --- | --- |
| Transformational leadership | Transactional leadership |
| proactive in nature | adaptive in nature |
| Work to transform the culture of the company by incorporating new ideas. | Works within the organizational culture |
| By appealing to higher principles and moral values, transformational leaders inspire and motivate employees to achieve the company's goals. | Transactional leaders employ various incentives to inspire workers to accomplish organizational goals. |
| Encourages followers to focus on the overall organization's good rather than personal interests to benefit the group. | Encourages followers to act in their own best interests. |
Conclusion
In the health industry, effective leadership is found to be vital in shaping organizational values and advancing reform implementation. Transformative and transactional leadership theories provide a framework for evaluating different leadership traits within the healthcare sector. Current efforts in healthcare management are oriented toward defining and identifying and evaluating the necessary competences (knowledge, capabilities, and mindsets) that health executives require to perform effectively in their roles. These abilities must be identified before appropriate training and career progression can be implemented to increase individual proficiency and operational commitment. Employee morale, motivation, and dedication to their roles are crucial factors that influence the performance of healthcare institutions. Therefore, the transformational leadership structure should be adopted for improved healthcare outcomes.
References
Ahmed, S., Tarique, K. M., & Arif, I. (2017). Service quality, patient satisfaction, and loyalty in the Bangladesh healthcare sector. International Journal of Health Care Quality Assurance, 30(5), 477-488. Web.
Asbari, M. (2020). Is transformational leadership suitable for future organizational needs? International Journal of Social, Policy and Law, 1(1), 51-55. Web.
Belrhiti, Z., Giralt, A. N., & Marchal, B. (2018). Complex leadership in healthcare: A scoping review. International Journal of Health Policy and Management, 7(12), 1073. Web.
Betz, M. (2021). Transactional leadership style: Pros, cons, and examples. BetterUp: The People Experience Platform. Web.
Cherry, K. (2020). How a transactional leadership style works. Verywell Mind. Web.
Caillier, J. G. (2020). Testing the influence of autocratic leadership, democratic leadership, and public service motivation on citizen ratings of an agency head's performance. Public Performance & Management Review, 43(4), 918-941. Web.
Giddens, J. (2018). Transformational leadership: What every nursing dean should know. Journal of Professional Nursing, 34(2), 117-121. Web.
Hansbrough, T. K., & Schyns, B. (2018). The appeal of transformational leadership. Journal of Leadership Studies, 12(3), 19-32. Web.
Kraus, S., Schiavone, F., Pluzhnikova, A., & Invernizzi, A. C. (2021). Digital transformation in healthcare: Analyzing the current state-of-research. Journal of Business Research, 123, 557-567. Web.
Mihai, L., Schiopoiu Burlea, A., & Mihai, M. (2017). Comparison of the leadership styles practiced by Romanian and Dutch SME owners. International Journal of Organizational Leadership, 6, 4-16. Web.
Milhem, M., Muda, H., & Ahmed, K. (2019). The effect of perceived transformational leadership style on employee engagement: The mediating effect of leader's emotional intelligence. Foundations of Management, 11(1), 33-42. Web.
Strömgren, M., Eriksson, A., Ahlstrom, L., Bergman, D.K. & Dellve, L. (2017), Leadership quality: a factor important for social capital in healthcare organizations. Journal of Health Organization and Management, 31(2), 175-191. Web.
Stuber, F., Seifried-Dübon, T., Rieger, M. A., Gündel, H., Ruhle, S., Zipfel, S., & Junne, F. (2021). The effectiveness of health-oriented leadership interventions for the improvement of mental health of employees in the health care sector: A systematic review. International archives of occupational and environmental health, 94(2), 203-220. Web.
Thibault, T., Gulseren, D. B., & Kelloway, E. K. (2019). The benefits of transformational leadership and transformational leadership training on health and safety outcomes. In R. Burke and A Richardsen (Eds), Increasing occupational health and safety in workplaces. Edward Elgar Publishing.
Vuong, B., Tung, D., Tushar, H., Quan, T., & Giao, H. (2021). Determinates of factors influencing job satisfaction and organizational loyalty. Management Science Letters, 11(1), 203-212. Web.