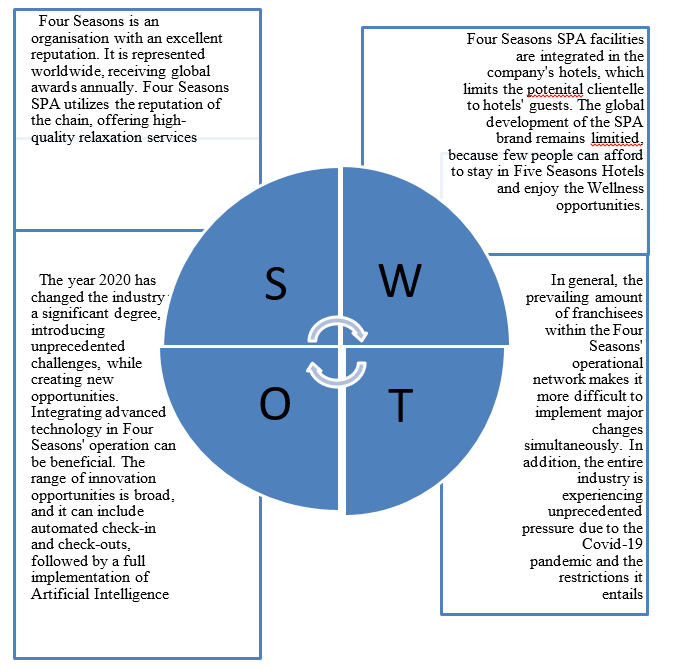 Competitors Analysis
The industry of SPA and wellness has demonstrated significant growth over recent years. According to the report prepared by Mordor Intelligence (2020), developed society increasingly focuses on recreational services, and related expenditures also continue to grow. Considering the colossal development opportunities in this sector, SPA and Wellness attract multiple organizations, attempting to conquer their share of the market. According to Mordor Intelligence (2020, para. 4), the list of key players comprises "Hot Springs Resort & Spa, Emirates Palace Spa, Four Seasons Hotel Limited, Planet Beach, Lanserhof, Massage Envy, Jade Mountain, and Marriott International". Figure 2 demonstrates the positioning of Four Seasons in the SPA and Wellness industry, providing a better understanding of the competitive forces affecting the company. According to the analysis, Marriott International appears to be the primary rival of Four Seasons SPA.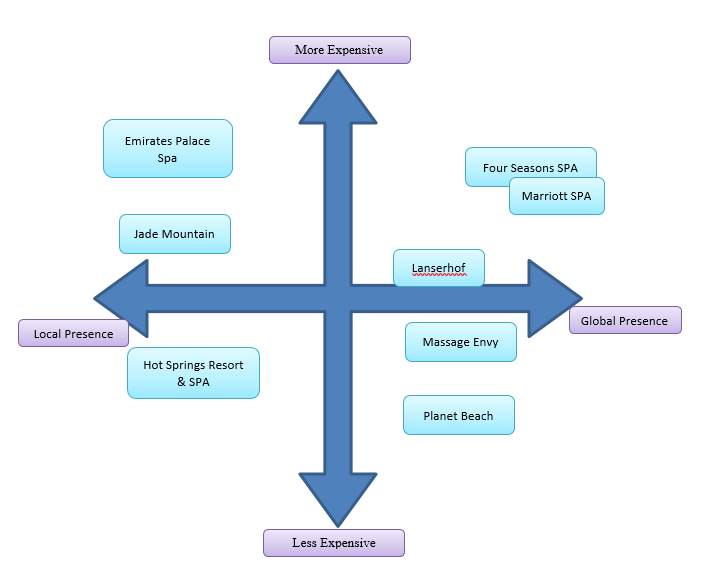 Financial Statement Analysis and Future Predictions
Four Seasons Hotels and Resorts:
Most of the company's financial information remains undisclosed;
Bill Gates and Prince Al-Waleed bin Talal are the majority owners;
The company was purchased for $3.8 billion (Das and Karmin, 2017);
Four Seasons grows faster than other five-star hotels and SPA chains (Das and Karmin, 2017);
SPA facilities across the globe have been closed due to COVID-19
Four Seasons SPA has suffered from similar losses as the whole chain has
While Four Seasons' exact financial performance, which is a private company, remains unknown, it is safe to assume that the current situation has negatively affected it. However, twelve years ago, the world experienced another economic crisis. According to the Hostfully Team (2020), the entire service industry was still in recovery mode by 2008 following the 9/11 attacks and other challenges of global terrorism.
On the contrary, the market was in a completely stable position at the start of the current crisis. Nevertheless, the situation remains complicated due to global restrictions in terms of personal communication. In 2008, people could not afford expensive trips and SPA sessions, but the 2020 crisis has forced multiple facilities to be closed. In this case, the best recovery strategy for Four Seasons would be to utilize the funds accumulated before the current crisis by investing them in innovation. It is possible to expect that Four Seasons will expand its operations online by allocating additional electronic commerce resources. Such an approach will alleviate some of the negative consequences and introduce a hybrid model of business.
Innovation Ambition Matrix and Innovation Portfolio
A company's innovation portfolio comprises all the areas in which potential changes are possible and likely to yield positive results. According to Nagji and Tuff (2012), balance is the key to a proper innovation portfolio. Global business experience suggests that well-performing companies should allocate 70% of their innovation resources to core opportunities, 20% – to adjacent areas, and the remaining 10% – to transformational initiatives (Nagji and Tuff, 2012). The emphasis on the Core segment is logical since innovations in this segment will be based on the company's current achievements, which have been defining its success.
However, in the contemporary business environment, it does not suffice to develop the existing assets. 20% of the company's innovative resources must be applied in the adjacent areas, thus expanding its opportunities. Simultaneously, Four Seasons has the potential to achieve an actual technological breakthrough in the SPA industry if the chain's potential is utilized effectively. Accordingly, the remaining 10% of the innovation portfolio will be attributed to transformational initiatives. Figure 3 specifies Four Seasons SPA's innovation opportunities in all three segments of its Innovation Ambition Matrix.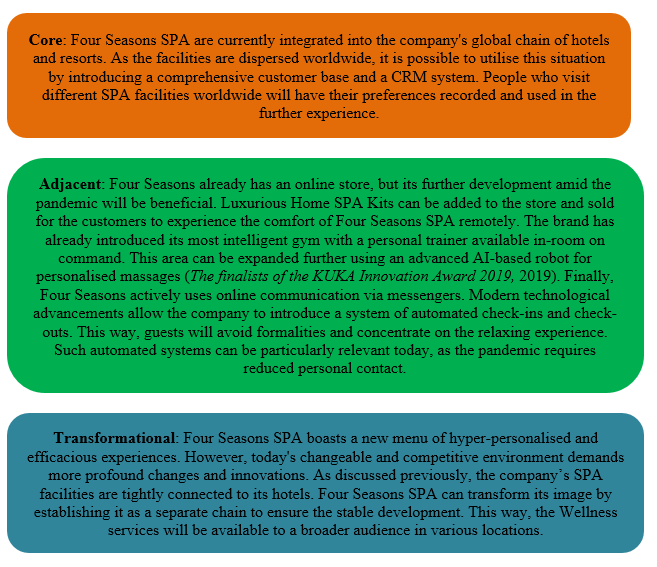 Innovation Opportunities
First, a comprehensive customer database appears to be a logical choice for short-term innovation. Four Seasons SPA offers a luxurious experience, and its customers enjoy the feeling of a distinct, bespoke experience. Additionally, the company's Wellness unit can implement a loyalty reward program, as similar initiatives are used by multiple tourism and travel organizations. A comprehensive database of customer preferences and requirements will enable a range of improvements in the short term. Four Seasons SPA guests will feel acknowledged and satisfied by the new, personalized services. Moreover, such a CRM-based system can prevent serious health-related incidents, as it will contain each customer's history of treatments, procedures, and allergies.
Luxury Home SPA kits can be sold via the existing online shop of Four Seasons, presenting another short-term opportunity. SPA facilities across the globe have been closed for months, which has negatively affected their financial performance. Many people have been missing the relaxing experience, and even more of them have been unable to travel and stay at Four Seasons locations. Moreover, there are those who remain conscious of the coronavirus and avoid public spaces. Luxury Home Wellness products will allow Four Seasons to encompass larger market segments through remote sales. This way, the company will maintain a stable presence during the pandemic.
Artificial Intelligence (AI) and massage robots utilize the potential of modern technological advancements. In a time when personal contact is supposed to be limited, society has recognized the vast opportunities, which lie within the sphere of AI. The machine is regularly washed and sanitized, and the threat of the virus spread is decreased. Such innovation will positively affect Four Seasons SPA's image as a revolutionary company not afraid to test new technology in the mid-term. Moreover, the broader implementation of robots will allow the company to economize on salaries and invest in new products.
Automated check-ins and check-outs also appear particularly relevant in the time of Covid-19. In addition, such systems are more efficient, reducing the queue time and allowing customers to concentrate on relaxation instead of formalities. Similar models already function and provide profits in hotels, providing a sufficient evidence base (Self-service check-in and check-out for hotels, n.d.). Automated reception areas will be able to function twenty-four hours per day, balancing the staff workload. Many guests stay at hotels during work trips, which means that they would only be able to enjoy the SPA outside of general working hours. This initiative will be particularly effective in combination with AI technology and an online database if implemented in the mid-term.
The most ambitious, long-term innovation proposed for Four Seasons SPA will be launching the Wellness chain independently of hotels. There is a growing demand for quality SPA services, but the company in question remains underrepresented on the global market. It is mostly to Four Seasons hotel guests, as of now, and opening independent salons will open the company to those who do need or cannot afford to stay there. For example, it might be logical to open the first independent locations in wealthier areas, such as Beverly Hills, Hollywood, central Paris, and London.
Four Seasons SPA Innovation Challenges and Risks
The proposed changes may face individual barriers in each scenario. First, creating a global customer base is a challenging and time-consuming process. In addition, personal data security must be ensured, as the fear of a lack thereof may cause opposition from conservative customers. Second, Luxury Home SPA products may be relatively cheap and easy to make using the existing resources of Four Seasons, but this innovation requires considerable marketing expenses. In other words, such innovation must be presented to the public unfamiliar with the offer.
Third, AI-based technology and automated check-ins reduce the service's personal component, and Four Seasons SPA is famous for its qualified workers. Finally, launching a separate, hotel-independent chain of Wellness facilities will be an expensive endeavor due to high purchase and maintenance costs. Besides, there is a need for qualified experts in this area, requiring either global training programs or outsourcing programming specialists. In a way, this project is similar to starting a new company, which will require considerable effort in terms of marketing, branding, and development. As for overarching barriers, Scott et al. (2019) refer to organizational inertia as the most serious impediment in the way of innovation. Therefore, Four Seasons management will have to ensure that all innovative ideas are clearly understood and endorsed by the company's organizational chain's key elements.
Recommendations
Considering all the factors presented and discussed above, it is possible to devise a set of particular recommendations for Four Seasons SPA. Current restrictions limit direct personal contact, which is why the focus of the public's attention has shifted toward the online environment. To counteract the effect of potential barriers, Four Seasons SPA should implement in due time-specific measures, which are as follows:
Production and sales of Luxury Home SPA products must begin in the near future via the electronic shop, and the first quarter of 2021 appears to be an optimal choice.
The development of a global customer database will take considerable time, but it appears possible to implement its pilot version by the third or the fourth quarter of 2021 to evaluate the effect.
Self-service check-ins/outs and AI-based experience present certain risks, which is why their implementation must be executed with caution. Four Seasons SPA can test these initiatives at several diverse locations in order to assess the degree of customer acceptance of the idea, as well as its efficiency and economic feasibility.
Launching an independent Four Seasons SPA chain will be the most demanding, yet the most promising initiative. This is a long-term proposal, which will encompass the period between 2021 and 2025. First, in-depth market research and marketing campaigns must provide a solid foundation for the project. Next, using the accumulated financial potential, Four Seasons SPA will be able to extend its operations by 2023-2025, conquering a new market segment.
Reference List
Chen, J., Yin, X. and Mei, L. (2018) 'Holistic innovation: an emerging innovation paradigm', International Journal of Innovation Studies, 2(1), pp. 1-13. Web.
Das, A. and Karmin, C. (2017) Two VIP billionaires teamed up to run luxury hotels. It's been a slog. Web.
Edquist, C. (2018) 'Towards a holistic innovation policy: can the Swedish National Innovation Council (NIC) be a role model?', Research Policy, 48(4), pp. 869-879. Web.
Engen, M. and Magnusson, P. (2018) 'Casting for service innovation: the roles of front-line employees', Creativity and Information Management, 27(3), pp. 255-269. Web.
Four Seasons at home. (n.d.). Web.
Hansen, M. T. and Birkinshaw, J. (2020) 'The Innovation Value Chain', Harvard Business Review, 85(6), pp. 121-130.
Hensen, A. H. R. and Dong, J. Q. (2020) 'Hierarchical business value of information technology: toward a digital innovation value chain', Information & Management, 57(4), 103209. Web.
Hostfully Team. (2020) 2008 vs 2020: the hospitality industry during downturns. Web.
KUKA – Robots & Automation (2019) The finalists of the KUKA Innovation Award 2019: Team iYU Pro, a robot for personalized massages. Web.
Mordor Intelligence. (2020) Spa Market – Segmented by service type (salon/day spa, hotel/resort, medical spa, destination spa, thermal/mineral spring spa) and by geography – growth, trends and forecasts (2020 – 2025). Web.
Nagji, B. and Tuff, G. (2012) 'Managing your innovation portfolio', Harvard Business Review. Web.
Scott, A. D. et al. (2019) 'Breaking down the barriers to innovation, Harvard Business Review. Web.
Yun, J. J et al. (2020) 'The culture for open innovation dynamics', Sustainability, 12(12), 5076. Web.