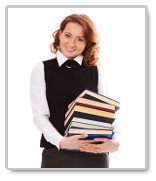 What do you know about term papers and ways to make them perfect? Have you developed your own strategies for creating brilliant term papers? Are you satisfied with the grades on your term papers?

We know that many students would like to have positive answers to these questions. Unfortunately, writing an excellent term paper is not easy, and you will have to practice a lot.

Certainly, you can find a huge amount of recommendations for writing term papers. Every student follows his/her own writing strategies. So, our writers are glad to offer their secrets and ways of making term papers perfect.
Keep in mind one important rule: a term paper should be related to topics discussed in class, so that you can demonstrate your understanding of issues studied. However, you need to choose an aspect that was not covered by your teacher.
Start writing a term paper by picking several topics and skimming through relevant sources. In this way, you will choose the right issue and will have enough materials to cover it properly.
Use critical thinking when studying and evaluating sources, and writing your term paper itself. Try not to refer to emotions, especially when talking about things that have nothing to do with feelings.
After you find enough ideas, start writing the first draft of your term paper. Write it as if you are trying to explain something to a friend. It is an effective way to get a general idea of your future term paper, organize ideas into necessary paragraphs, etc.
Use both primary and secondary sources. Do not forget to document them properly.
Finally, do not make your teacher feel nervous because of bloopers in your paper. Proofread it carefully after you finish writing.

Good luck!

After you purchase a custom written paper from our writing service, you will be able to buy the next one with discount, pay less money for the same quality! 24/7 assistance and help. Pay through PayPal or any other payment option available. Get a free plagiarism report along with your order.

Cheap and unreliable services are not for you – order with Custom-Essay.org – get a wonderful paper indeed.