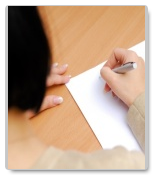 Writing a one-page essay is a common assignment for students. That is why you had better master it. This article may be rather helpful for you, as it is devoted to the secrets of writing one-page essays!

Let us discuss several issues concerning different aspects of one-page essay writing.

POSSIBLE TYPES OF ONE-PAGE ESSAYS

You may write a 1-page essay of different types. Here are some of them:
Analysis;
Analogy;
Cause;
Comparison;
Narration;
Opinion;
Summary.
STRUCTURE OF ONE-PAGE ESSAYS
As you have only one page to disclose a topic, you should keep to a rather simple structure:
Introduction
Main body
Conclusion
Now, let us discuss how each of these chapters should look like. Introduction of a 1-page essay should not be too long. It should include:
Attention-grabbing introductory sentence;
Thesis statement (question, quote, etc…);
Background information.
Main body of a 1-page essay should consist of three paragraphs. Each of them should:
Have a logical intro;
Support the set thesis statement;
Present enough supporting arguments.
Conclusion of a 1-page essay should dot all i's and cross all t's. Here you need to:
Answer the problem posed;
Restate the thesis statement (not duplicate!);
Summarize the strongest points;
Give the final statement.
TIPS FOR ONE-PAGE ESSAYS
If you want to improve your one-page essay, avoid:
Using passive constructions;
Using the verb TO BE very often (was, is, etc…);
Plagiarizing (use your own thoughts and ideas);
Presenting general ideas (narrow down and clarify).
More one-page essay writing tips can be found on our site. If you need help with writing a cause and effect essay, you can use our site as well.

Custom written paper that exceeds your expectations. Buy essays, get a free plagiarism report and an opportunity to purchase your next customer writing order with a discount!

Do not pay for expensive services, you can buy a cheap paper of supreme quality! PayPal accepted.

We are the essay writing service that makes difference on this market! 24/7 help and support guaranteed!